The Essential Repair Shop Management System
Trailblazer keeps track of all of your repairs, clients and stock, and helps you to build trust with your team and customers.
Trailblazer is a
web based

Repair shop tracking and management

tool

with

intuitive workflow, stock management

, automated messaging, and other great features that make running your repair shop a real breeze.

Trailblazer automates the workflow in your repair shop, and makes your life easier.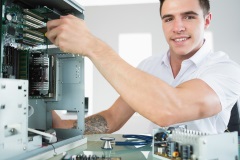 Check on your shops' workflow at any time, and from any location.
Improve efficiency, performance, and customer satisfaction.
Customisable labels, invoices and printouts
SMS messaging system.
Email alerts for customers and technicians
Many More Features
Read more about TrailBlazer on the dedicated sales site - trailblazerrepairs.com.
Call now on +44(0)1633 674291 to discuss your requirements, or email us at sales@redbrooktech.com !
Payment can be made through Paypal. Get your repair shop online today !
Full Licence £195 ($240 US APPROX.)

Need Hosting for Trailblazer?




We can host your Trailblazer system for £60 per year (Only £5 per month).

If you need customisations, please contact us to discuss. We can make the changes you require at a very reasonable rate.
Demo -
Go to Pendragonrepairs.com and log in with username 'admin', password 'pendragon'. Here, you will be able to try out all of the features of Trailblazer.
Do you need help with installing Trailblazer on your server? Please read our support Forum - Support ..