Evolution Access to VB.NET Converter
Convert MS Access to VB.NET with ease
Do you need a tool that can convert your
old MS

Access forms and code modules

to VB.NET quickly and efficiently

?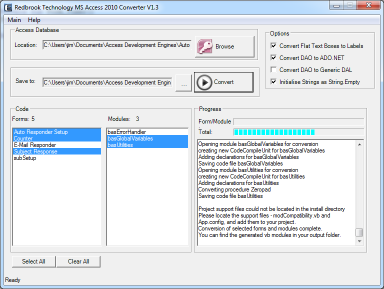 The Evolution MS Access to VB.NET converter was built after years of experience of converting legacy Access apps to VB.NET manually.
By using this great tool, developers can dramatically reduce the time required to convert forms and code modules written using Microsoft Access into VB.NET code .
The Evolution Access to VB.NET Converter converts Continuous Forms, Multi page tab pages, Unbound and Bound Forms, and ActiveX controls, such as the MS Date Picker. It will also convert Data Access code written using DAO into ADO.NET with a high degree of success.
The Evolution Access Converter has been created with the Experienced developer in mind, who does not want to spend many hours converting the visual design of Access Forms, or perform thousands of repetetive code changes during conversion to .NET
Bound forms can also be converted successfully, as we add our own record set navigation controls during translation. If you have forms with lots of old DAO code, our conversion process is especially useful as the conversion tool 'automagically' translates this code to ADO.NET.
Or, Purchase a licence right now through paypal for only £145 -
Download your copy here -
Evolution for MS Access 2007 - Evolution Access Converter V1.2
Evolution for MS Access 2010 - Evolution Access Converter V1.3
Evolution for MS Access 2013 / 2016 - Evolution Access Converter V1.4
The trial version will allow you to convert up to 10 of your code modules or forms free of charge! How cool is that?!